The Flight of the Spokane Sun-God


By Richard L Meister Jr



Digested from the author's feature in Spokane's Our Community Today, Feb 2000



Photos courtesy of Art Walker via Robert E Smith
A 1929 Buhl CA-6 sesquiplane, the Spokane Sun-God, was the first airplane to make a non-stop transcontinental round-trip flight. Sponsored by the National Air Derby Association along with Texaco, who supplied the gas, Buhl Aircraft Company, who provided the plane, and many Spokane citizens and businessmen, the ship was piloted by Nick Mamer and Art Walker, who took on the challenge without concern of personal reward.



Refueling ships, as flying tankers, would meet them at predetermined locations, but the lack of two-way radios presented a major problem—notes would have to be dropped to people on the ground or tied to the end of refueling hoses in order to communicate with tanker crews. A section of the Buhl's fuselage top was removed so that a fuel hose and other supplies could be received in flight. Maps were gathered and routes laid out from Spokane to San Francisco to New York and back to Spokane. The original plan was to then continue the flight for a second round-trip. That part was unpublicized, but most likely involved going after Spaatz and Eaker's 150-hour endurance record set in January that year.



Thus, after a lengthy ceremony—most of which Mamer and Walker did not attend, preferring instead to rest up for the flight—at 6:00 pm on August 15, 1929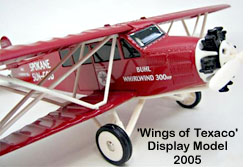 the Spokane Sun-God, overloaded by some 800 pounds, gracefully lifted off from Felts Field and headed south for its first refueling point over San Francisco's Mills Field. That went smoothly, unlike others to come.



Mamer had scheduled refueling at Cheyenne, but an unexpected headwind meant his gas would not stretch that far, so he dropped a note at Elko asking that the Cheyenne tanker meet them instead at Rock Springs, Wyoming. There the fuel transfer had to be made in darkness, and a nighttime refueling had never been done before nor had a refueling been tried at 8,000' altitude—Rock Springs is 6,270' above sea level. The refueling plane was also limited in the amount of fuel it could carry up into the thin air at that height and had to make several trips to fill Mamer's request for 310 gallons of fuel—Sun-God's fuel capacity was 320 gallons, and there were only 10 gallons remaining at the time, good for about 22 minutes of flying! One of the Buhl's gas lines had broken, as well, but Walker and Mamer patched it into usable condition.



The hoseman on the tanker tied a flashlight to the end of the refueling hose so it could be spotted, but Walker had a hard time distinguishing the flashlight from the stars. He finally used the flames from the exhaust of the refueling plane to help locate the flashlight and did get the hose in a tank, but it became caught in the Buhl's propeller arc and was ripped apart, spewing raw gasoline on the plane. Transferring fuel was a makeshift process, far from sanitary, so considering the spillage, the fuel spray, and some engine exhaust flames in 100 mph winds, both planes were potential time bombs. That sobering thought was undoubtedly in the front of all the flyers' minds.



The hoseman repaired the hose, but it ended up so short that the two planes needed to fly so close to each other that Walker had to sometimes push up on the belly of the tanker to keep it from smashing down on Sun-God. The pilot of the refueling plane had to keep his overweight plane flying straight and steady while the hoseman guided him by taps on his shoulders with a gas measuring stick. Mamer, as well, had a similar task in matching speed and altitude.



Despite the problems, refueling was successful. Sun-God flew on to Cheyenne at daybreak for fuel, then on to North Platte, their next refueling stop. They made it to Cleveland, where they refueled, from North Platte in one hop.



Coping with rough air over Pennsylvania for four hours left Mamer and Walker physically exhausted as they headed into New York, but they found their second wind in the cheering sight of hundreds of planes that flew up to welcome them. Sun-God roared over Roosevelt Field at 3:47 pm on August 18 after being in the air 66 hours and 47 minutes over 3,600 air miles and, thankfully, had no problems taking on fuel and supplies. At 5:45 Frank Hawks, who himself had recently broken the transcontinental speed record, flew up to join them on their leg to Bellefonte, Pennsylvania.



That night, over Bellefonte, Mamer dropped a note asking the airfield to flash its lights once for good weather, twice if marginal, and three times if bad. The lights flashed three times, and within minutes a storm hit. Sun-God circled Belleforte for 30 minutes in the storm until it became so fierce that Mamer decided to head west. At two occasions they feared the Buhl would break apart in the violence, but after an hour they finally pulled free of the storm and made it to Cleveland. There they refueled, then flew to St Paul as a refueling site, and to Aberdeen, South Dakota, for their next tanker.



Smoke from Montana forest fires nearly blinded Mamer and Walker on the way from Aberdeen to Miles City—which was not a scheduled refueling site—and, to compound problems, one of the magnetos on the Wright motor quit. Mamer dropped a note at Miles City saying he and Walker were about to give up, and asked for the airfield to be lighted so he could see to land if it came to that.



But the note also asked if anyone there could figure out a way to refuel Sun-God in flight. Volunteers on the ground quickly formed into groups. One group went to a creamery and borrowed five-gallon milk cans, another made detachable rope slings, wives and helpers prepared food. Then, at daybreak on August 20, Frank Wiley flew up with Tommy Matthews secured in the cockpit with a telephone lineman's belt to meet Sun-God, which by then was beginning to look like a derelict with a rag stuffed in a hole in her windshield and streaks of oil decorating her fuselage.



Matthews hung half-way out of the cockpit and lowered milk cans full of gas one at a time, which he set on the fuselage behind the opening on the top of the Buhl. Walker disconnected the cans and pulled them in. Once a can was disconnected, Matthews pulled up the rope, tied on another can and lowered it. After a few of these exercises, Mamer then flew low over the Yellowstone River and Walker tossed his empties into it, where a boy in a rowboat waited at the bridge in Miles City to fetch the cans as they floated by and return them to the refueling crew. All totaled, Wiley and Matthews brought up 120 gallons of fuel in this impromptu, but curiously efficient, effort.



Mamer had also asked those on the ground to tell the Missoula refueling ship to fly to Belgrade and await their arrival, then flew to Belgrade, where, in more forest smoke, they refueled and flew to just west of Missoula. There they again refueled in thick smoke and headed out across northern Idaho to arrive at Spokane at 2:00 pm on August 20, where some 10,000 spectators had turned out to welcome back their adventurers.



Circling Felts Field, Mamer dropped a note marked "Confidential" for Vic Dessert, Chairman of the National Air Derby committee, informing him that one of the magnetos and the special oiling system for the rocker arms on three cylinders had quit, and that it would be impossible for them to make another transcontinental trip. The Air Derby committee conferred and sent up a note with a refueling ship asking Mamer to continue circling Felts Field until 6:00 pm. [Ed note: The reason for that four-hour delay in landing is unknown, perhaps to round out the number to 120 hours, or to give the Spokane audience a demonstration of refueling. The record was for distance traveled—it was not a race against the clock.]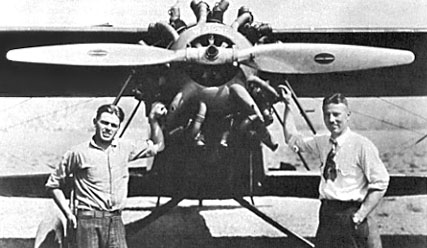 Art Walker and Nick Mamer



The wheels of the pioneering Spokane Sun-God finally touched ground at 6:01 pm. She had been aloft for 120 hours, one minute and 40 seconds, flown 10,000 air miles, and set a world's distance record for a non-stop flight of 7,200 point-to-point miles in those remarkable five days!


---


Information for my original article came from accounts in The Spokesman Review (8/14-21/29), One Man's Opinion of the Spokane Aviation Story by Jim McGoldrick, Montana and The Sky by Frank W Wiley, and Robert E & Anita Lorene Smith. For more information on Mamer and his life in aviation, see the Smith's Nick Mamer Tribute