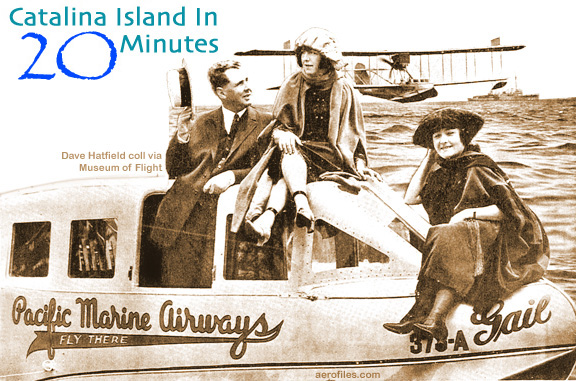 By Dennis Parks, Senior Curator, Museum of Flight
"FLY THERE" was the advertising slogan of Pacific Marine Airways when they began service to Catalina Island on Sunday, 4 June 1922. Using two war surplus, Curtiss HS-2L flying boats converted for passenger work, Pacfic Marine Airways provided service to the popular resort island from Los Angeles Harbor and Avalon Harbor on Catalina Island.



The first flight to Catalina Island took place on 10 May 1912 by Glenn L Martin in a hydro-aeroplane of his own design flying from Newport. Departing at noon Martin made the crossing averaging about 55mph on the 35-mile journey. After refueling—and fixing a hole in his pontoon—Martin made a successful return trip.



The first aerial service to Catalina was conceived by Syd Chaplin and Emory Rogers, who had built an airport in Los Angeles and were Curtiss aircraft dealers. For the Catalina flights they purchased a three-seat Curtiss Seagull flying boat and began service in July 1919. The service closed in September and was not restarted, but went into the history books as California's first airline.
The next offering of service for Catalina was from Pacific Marine Airways, organized by Foster Curry, a vacation promoter from Yosemite National Park. Officers in the company were Ellard Bacon, president, R J Behan, vice-president, and R Paulson, secretary. Pilots were Wallace Curtiss, Paul Haaren, Art Burns, and F W Farris, traffic Manager was W H Burgess. Taking over from where Chaplin's Wilimington-to-Catalina airline left off, Pacific Marine Airways attempted to maintain a scheduled passenger service from Wilmington using Curtiss HS-2L flying boats that could seat six passengers.



The HS-2Ls were converted from a batch of 25 built by Boeing for the US Navy and sold as war surplus in San Diego to the Aeromarine Company, which had a good record on the east coast of operating Navy surplus flying boats for passenger service—up to April 1922 Aeromarine had carried more than 10,700 passengers a distance of over 158,000 miles without any injury.



The two boats went to Davis-Douglas of Los Angeles for modification according to Aeromarine plans. Navy serial [A-4237] was converted with an open passenger area and [A-4251] was modified with an enclosed passenger cabin.



The planes made the trip between Wilmington and Catalina Island in 20 mintues, leaving the mainland terminal at 10:45 am and at 5:00 pm; return trips were made 45 minutes later. Fare was $12.50 one-way and $20.00 for a round-trip.
During 1927 Pacific Marine Airways carried 3,500 passengers on scheduled crossings between the mainland and Catalina Island for a total of 60,000 passenger miles, completed without any instances of delay or trouble. Fare was $10 for a one-way trip or $15 for a round-trip. For 1928 the firm announced its decisions to purchase three Loening amphibians to substitute for the Curtiss flying boats and to operate out of a Los Angeles airport instead of Wilmington. The popular resort of Catalina was a natural for amphibian flying as the air fields of Los Angeles had fine service facilities and the island had no airports, just the harbor of Avalon.



The April 1928 issue of Western Flying told of the "feverish preparations" for the inauguration of a half-dozen new air lines and said that Pacific Marine Airways' record was a good indication as to what could be expected on the new lines being contemplated. However, in June 1928, Western Air Express took over the operations of the company, and used the new Loening amphibians in operating from Vail Field in Los Angeles and retired the old HS-2Ls that had seen continuous service since 1922.